Description
Its design inspired by a legendary vintage British console mic preamp, the 1073, the Black Lion B173 Quad packs a massive punch, delivering the muscular lows, assertive mids, and glossy highs characteristic of a vintage 1073 in a budget-friendly 2RU unit. The B173 Quad features high-end parts and discrete Class A circuitry with transformer-coupled input and output stages. With 70dB of gain on tap, the B173 Quad serves up heaping portions of low-noise headroom. Now you'll finally be able to use your low-output ribbon mics on quiet sources! The B173 Quad imparts a bold sonic assertiveness that beefs up any signal you pass through it. This is the sound that launched a thousand hits.
Big-iron upgrades and more
The B173 Quad is a 4-channel version of the company's single-channel model. More than just another 1073 clone, the B173 Quad combines vintage-inspired sonics and modern features in a rugged 2RU chassis with a smart feature set that will satisfy the most demanding audio engineers. A revised gain stage and lower noise floor deliver cleaner sound with lower distortion, while Cinemag input and output transformers keep things warm, creamy, and beefy. Two front panel DIs impart harmonic richness to guitars, basses, and synths, while stepped input gain and variable output attenuation give you exacting control over transformer saturation. Per-channel metering displays how hot your output signal is hitting the parallel TRS/XLR outputs, while an external power supply keeps noise out of your tracks. At Sweetwater, we dig the Black Lion B173 Quad. It's an amazing value and sounds great. Mount a one or two of them in your rack and get to work.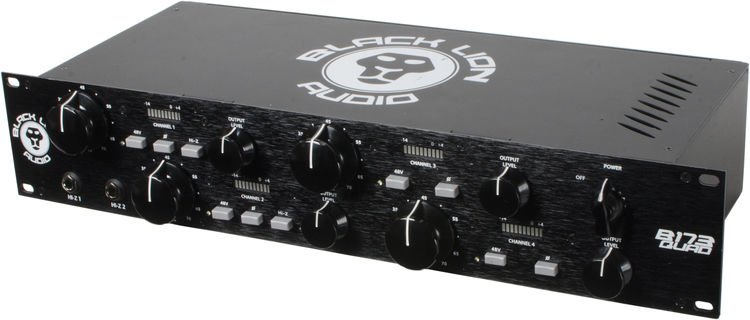 Excellent hot-mod preamp value
Since 2006, Black Lion Audio has helped musicians and engineers improve the sound of their equipment, and they've built a solid reputation for coaxing world-class sound out of modestly priced gear. As an outfit that cut its teeth doing acclaimed mods, Black Lion, unsurprisingly, produces innovative audio equipment of their own design that consistently outperforms its price range.
View All
Close